I don't write blogs very often these days but sometimes, with just too many thoughts going round in my head, it is good to get it all down on paper. Or on a screen.
So please forgive/enjoy this stream of consciousness …
I have been an avid follower of Florence Wilcox's fabulous podcast series, 'The Obs Pod'. It is a year now since #FabObs Flo, my #MatExp partner in crime, first told me about the idea, having been inspired by meeting Natalie Silverman @fertilitypoddy at a conference, and I have been privileged to have pre-hears of the weekly editions.
Each one resonates with me in a different way. It might be my own birth experiences (yes, they stay with you for all those years) and now a proud Granny, or hearing Flo talk about her perspective on topics we have addressed through our #MatExp Whose Shoes work. The podcasts always give me deeper understanding of Flo's thinking and what drives her in her mission to listen, learn and blend all the nuances of lived experience into her medical training and experiences as a doctor.
Anyway, the current episode 'Ethics' about the interface between medicine and what has traditionally been referred to as 'fetal anomalies' – a baby! – brought a flood of associations, memories and emotions. In particular, I thought of the wonderful network of people I have come to know and love over the last couple of decades. I felt proud that we have been able to contribute to a more human approach, with better information and choice for families from the point at which they are told that their baby has a higher chance of having Down syndrome; and then quality of life and acceptance and joy for growing families. This #TheObsPod episode brings together so many things for me.
Mel Smith and Grapevine are friends I have known for many years. Indeed, I attended their 25 year celebration (thankfully before the pandemic curtailed such activities).
Mel wrote 'Imagine', a fabulous poem about her relationship with her son Rishard as a very powerful contribution to our Whose Shoes event with the Coventry & Warwickshire maternity team in 2018. Hearing Mel read it here at the end of Flo's podcast is just wonderful. I have followed Rishard's progress and his dream to become an actor … including now starring in the BBC Doctors series!
I know/know of other young actors with Down syndrome. What progress they have all made over the last couple of years! Big shoutout to George Webster, starring in S.A.M and challenging societal stereotypes, including sexuality and learning disability.
I was invited to the Premiere in London of 'The Peanut Butter Falcon', for which Zack Gottsagen made Academy Awards history by becoming the first person with Down Syndrome to present the Best Live Action Short Film on The Oscars (2020). Such films really help people understand and embrace diversity, in all its many facets.
I was sad not to be able to go to the Premiere. And then in January 2020, I spotted the film in the film library on my way to New Zealand and it passed a very happy hour – a bit of a trip of a lifetime, just before the world went so pear-shaped. All these memories and associations come back by listening to a podcast on Ethics!
Of the friends with Down Syndrome I have met through Grapevine, I must give a special shoutout to Heidi Crowter @HeidiCrowter95. Heidi is smashing stigma and stereotypes with her steely determination, resilience, courage, perseverance, joy, infectious giggle and firm belief that we can all achieve our dreams.
Heidi was a star of our #CovMindTheGap the movie' film, which tells the story of our famous (infamous?) #CovMindTheGap workshop. So-called 'hard-to-reach' people queued at the door, took a full part in our Whose Shoes discussions before coming on our 'Magic Mile' walk. Complete with storytelling, dancing and singing in the streets of Coventry, this was one to remember.
Oh and by the way, Heidi got married last year – as people with Down syndrome do.
Congratulations again Heidi and James – keep rocking it and end #Downrightdiscrimination.
… Thinking of Coventry, my mind wanders back to 'Our stories' – my favourite-ever project in all my (#eek 30!) years working in social care in Coventry.
My passion for personalisation was kindled by this project. We helped people with very complex needs to reclaim their lives through the choice and control afforded by personal budgets. We were successful in helping people to move back from extremely expensive (public services perspective) and miserable (citizen perspective – far from my family) 'out of city' placements. Unleashing this personal genie was a key trigger to me jumping ship from my day job to set up Whose Shoes.

I have a few spare copies of 'Our Stories' and have just sent a copy to Ghislaine Smith. Ghislaine is one of the current Darzi Fellows, doing a project in London to reduce the number of out of area placements for children and young people in care in the North West London. I met her at a #VirtualWhoseShoes session we ran in November 2020 with her #Darzi12 cohort. I find it fascinating how these different projects and connections wander into each other over so many years. I hope the booklet will be useful in some way, but learning from people's stories never goes out of date.
… The local, regional, national and indeed international (especially now with such easy connectivity online) weaving effortlessly together …
Then there are all the friends I have met and experiences I have enjoyed through Nicola Enoch, Founder of Positive About Down Syndrome (PADS). I first met Nicola Enoch a few years ago when she attended our Whose Shoes workshop in Warwick. Well, what an amazing woman and story!
Nicola gave me a leaflet but I said it would have more impact if we took a photo and posted it on social media. I have since smiled seeing so many similar photos with movers and shakers in the maternity world: people Nicola has met through the #MatExp community. Nicola knows how to network and make things happen!
Nicola has helped me take forward work I started with Lewisham and Greenwich NHS Trust. Working with this innovative maternity team, led by Helen Knower, we had developed Whose Shoes scenarios exploring language used by healthcare professionals and experiences of parents and parents-to be around screening of Down Syndrome. Nicola became a huge champion of this work and attended a workshop with them.
Now Nicola and I plot and plan how we can best use our combined networks and resources to spread this thinking:
Over 70 NHS trusts now have Whose Shoes #MatExp resources.
Nicola has a vast network of parents across the country.
We aim to get parents working with midwives, learning from lived experience, in more and more parts of the country.
A highlight was when Colette Lloyd, an amazing Mum who spearheaded a campaign to re-think negative language around Down syndrome attended our Whose Shoes workshop with Barts Health NHS Trust. She caused so many 'lemon lightbulb' moments that she was invited to stay and run some training that afternoon.

Teams like the maternity team in Cornwall, who really get Whose Shoes, have similarly done wonderful work in this area. I love following what they get up to in Cornwall. Sarah-Jane Pedler, a truly inspirational Professional Midwifery Ambassador and … well, everyone really (it is true coproduction) … hold an annual Whose Shoes workshop focusing on a different topic each time.
Angie Emrys-Jones @LookingUpBooks, who has a child with Down Syndrome, is Book Lead at Cornwall Down Syndrome Support Group. She has sent me some beautiful books. I'm sure they must massively help those they are designed for – reassuring images and stories about 'Going to School', and helping grandparents ('Tea at Grandma's') and so much more.
It is lovely when people send me these fabulous packages. Another last year was from Nicola : the wonderful crowdsourced #NobodyToldMe book, full of positive images and stories of children with Down Syndrome. Flo refers to this in her podcast.
I knew Nicola's dream was to be able to influence the RCOG. How brilliant would it be to help shape doctors' thinking right from the beginning of their obstetric journey!
Florence managed to get us a Whose Shoes training session with doctors at the RCOG. These people have huge influence in life and death decisions but may never have actually met a child or adult with Down Syndrome. Nicola embraced the opportunity to talk to them about the issues raised through the different Whose Shoes scenarios.
What a revelation to see issues through the eyes of a proud parent of a lively teenager, who happens tp have Down Syndrome!
Nicola invited me to speak at her wonderful national conference for parents of children with Down Syndrome. Most of the speakers were parents; the agenda was packed. Every 15 minutes, a new (equally inspirational!) speaker! These people were wall-to-wall passion, leading initiatives and campaigns' (Don't screen us out!' and so many more). The energy of this #JFDI parents' conference and the quality of the presenters will stay with me, which sadly is not the case for many far more expensive professional conferences I have attended … and indeed forgotten.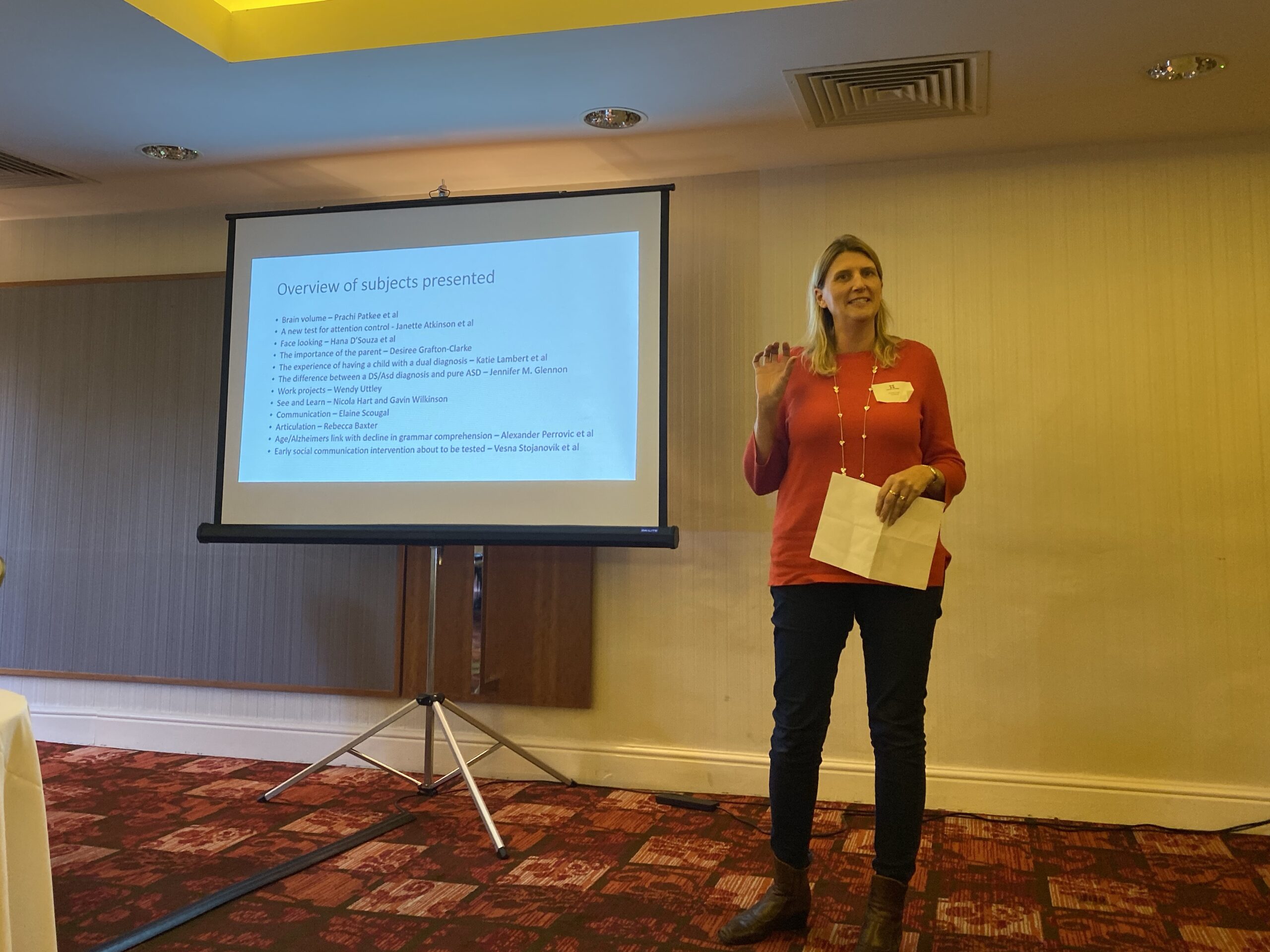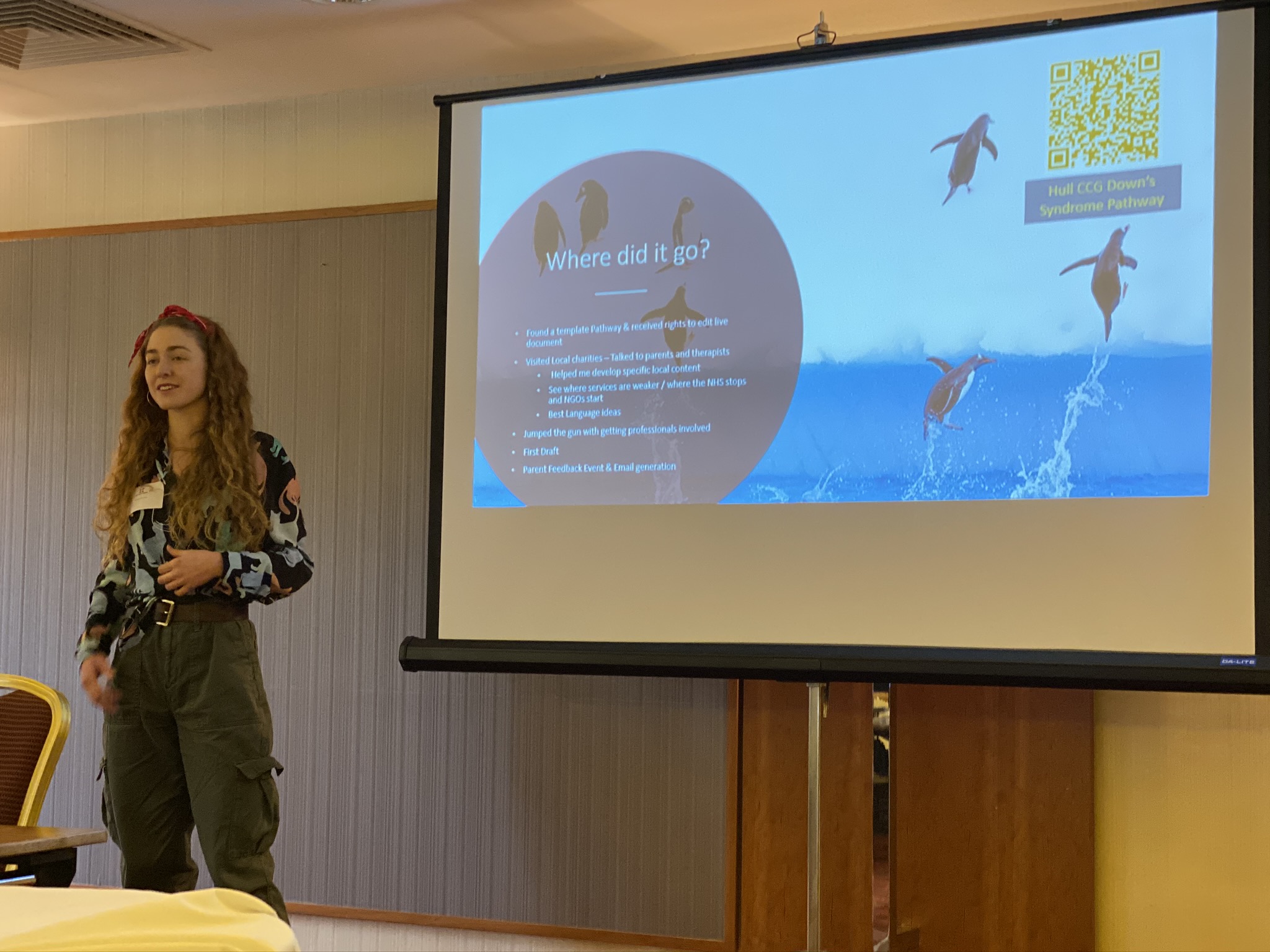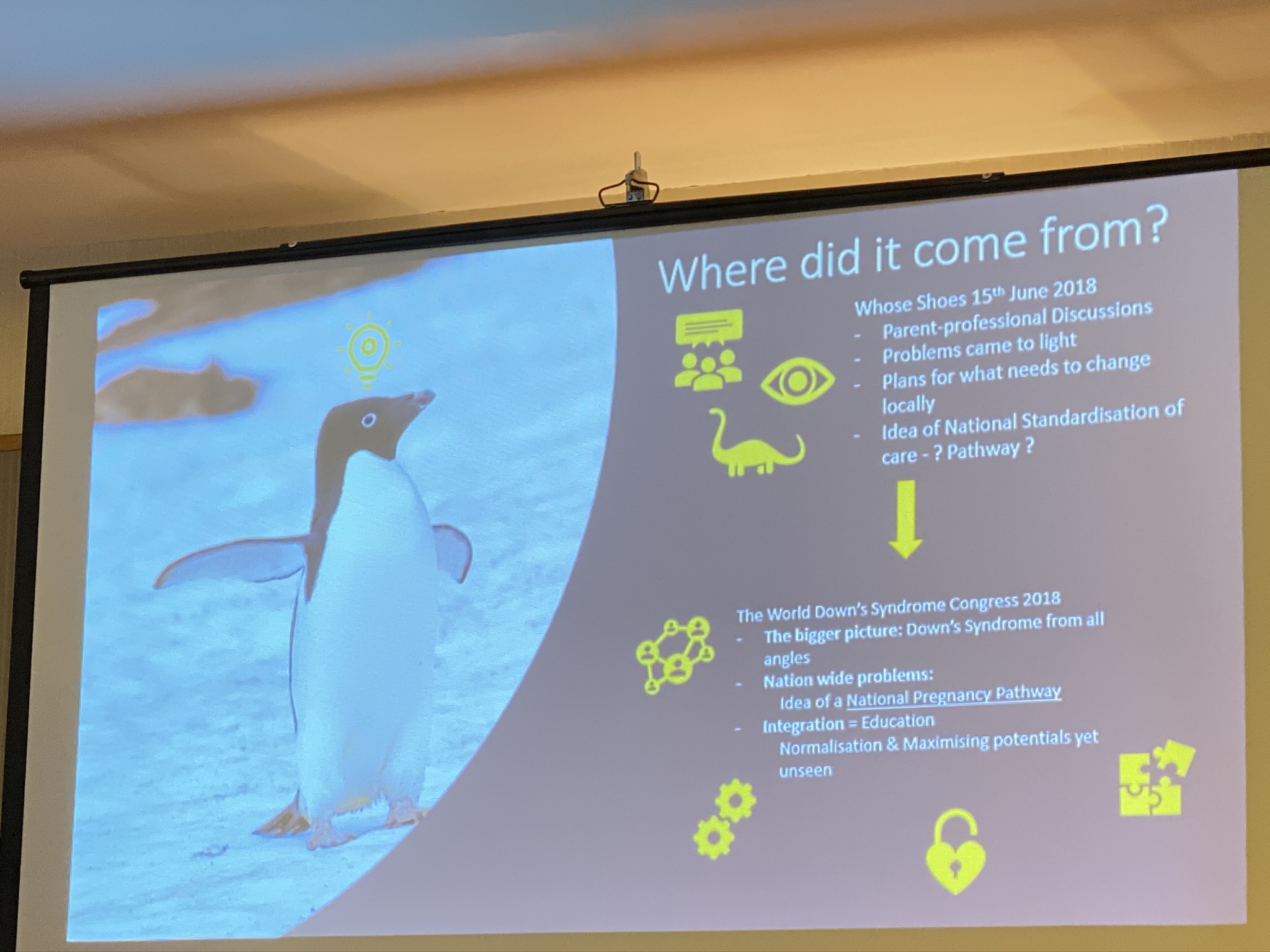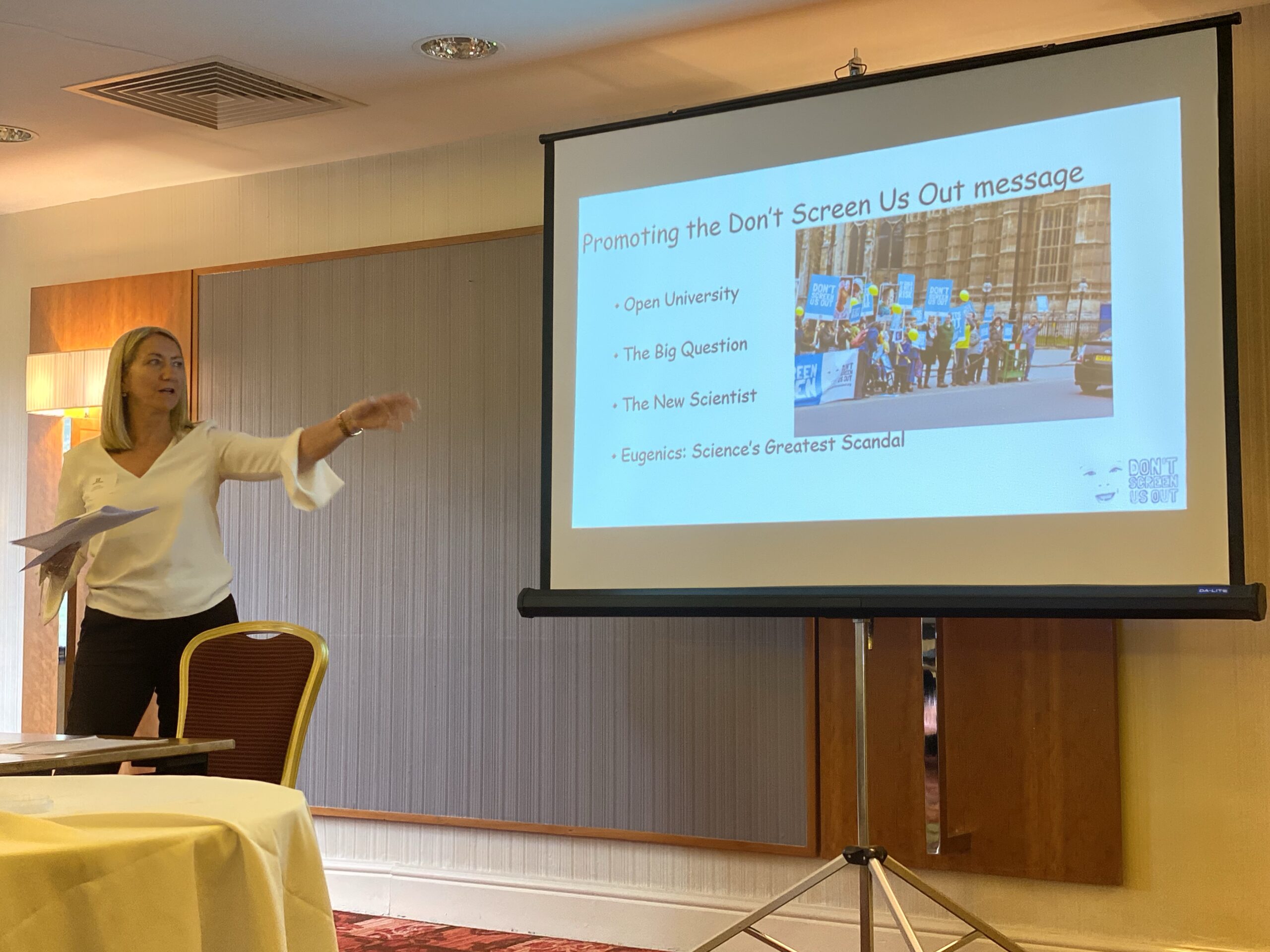 DS – Nicola's conference 1
DS – Nicola's conference 2
DS – Nicola's conference 3 – Verity1
DS – Nicola's conference 3 – Verity2
DS – Nicola's conference 3 – Verity3
DS – Nicola's conference 5
DS – Nicola's conference 6 – Lynn Murray 1
DS – Nicola's conference 7 – Lynn Murray 2
DS – Nicola's conference 8 – Lynn Murray 3
DS – Nicola's conference 9 – socks
DS – Nicola's conference 9 Lucienne Cooper – socks
I have enjoyed networking with these parents. Meeting them in person around the country (and now joining our #VirtualWhoseShoes sessions). Lynn Murray @LynnAMurray joined the workshop up in Dundee. Colette Lloyd @ColetteLloyd joined our workshop in Barts in London, and immediately got invited to take part in some training that afternoon.
Sarah Sutton @peaponderer sang our #MatExp the Musical 'Better births are here to stay' song with us in Surrey using Makaton, while Caspar @N_Down_A_Caspar came along with his mum and stole the show.
And then the new passion emerging through all of this. Seeing student midwife, Verity Lancaster @LancasterVerity, student of the year 2019, giving up her Sunday to travel to the Midlands to speak at Nichola's conference, talking about the work we first started at Lewisham and Greenwich and how it inspired her to lead in this area. Hearing her humility ('just a student midwife') but with more understanding and compassion than many far more experienced people; speaking from the heart.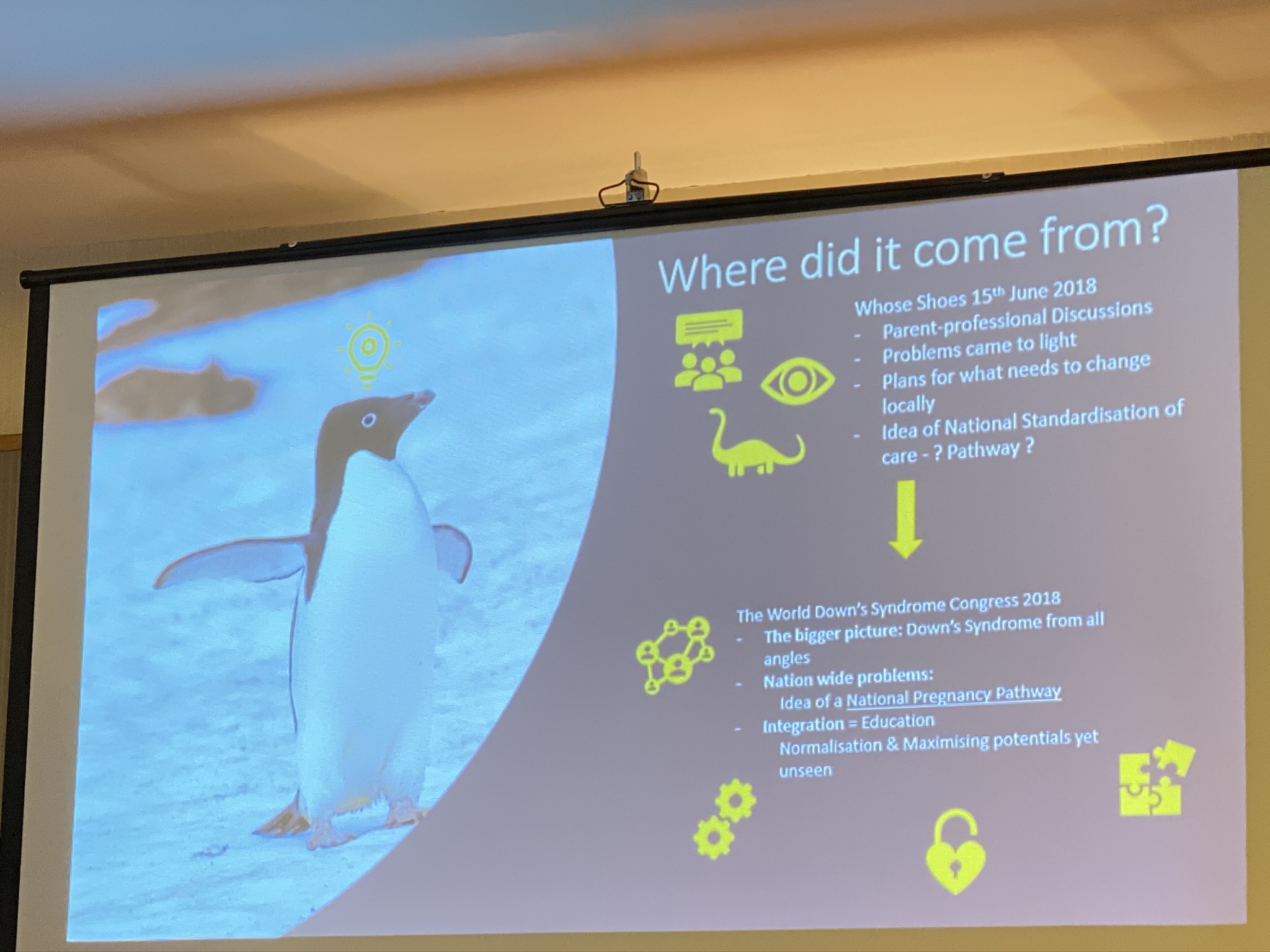 Being able to draw on this fantastic network of people and help showcase what they are doing is an ongoing journey. During the pandemic, Nicola's daughter Emily set up online sessions for her brother Tom and his friends, to reduce social isolation during the pandemic. These have now spread nationally.
We were delighted to help promote Emily's sessions through the 'Building the future' #VirtualWhoseShoes work we did during the summer of 2020 and also in our recent Advent series.
I was privileged to support Nicola giving her Ted talk: 'How I nearly terminated my son through ignorance'. A powerful title – an even more powerful talk.
I am now linking busy Nicola into discussions I am holding with 'Wave for Change', a wonderful organisation in London who are enabling people with and without learning disabilities to socialise together as equals. Which links back to my early connections with Grapevine Coventry, because it that is what they have always done.
And it was Claire Flower, a music therapist at Chelsea and Westminster hospital, who led the music extravaganza in #MatExp the Musical, on the main stage at NHS Expo, who introduced me to them.
Another inspirational mother is my friend Yvonne Newbold @YvonneNewbold – so much so, she was awarded an MBE in the New Years Honours list! Check out her webinars and her book, both of which help thousands of parents of children with special needs: The Special Parents Handbook.
And the networking continues … Dancing brings joy!
Always good to hear from Community Catalysts! I joined their session in September …
… and they contributed a wonderful video about 'The Buzz' for our advent series.
In fact we all love Community Catalysts!! They make a lot of people very happy – like Grapevine and Wave for Change, helping people with and without learning disabilities to have fun together. True inclusion.
It is great to see that Mel, Nicola and Yvonne have all endorsed Flo's podcast episode on Ethics, saying that she has tackled a very sensitive topic in a compassionate, informative and non-judgemental way.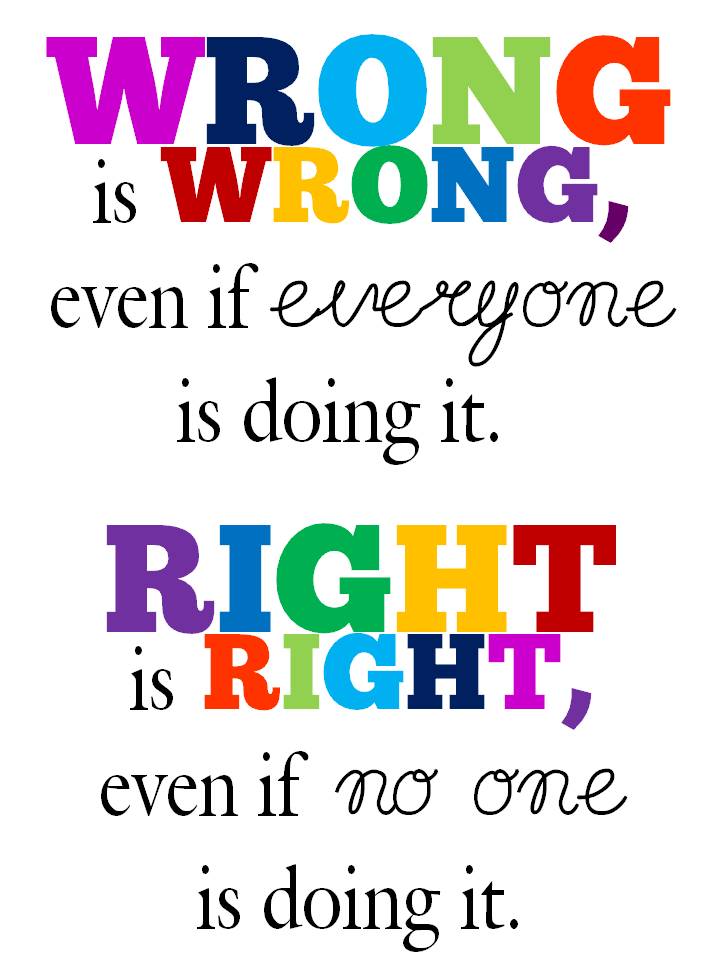 Bridging the gap between services and people; shifting the power dynamics, promoting inclusion in the widest sense.
Yes, a lot of thoughts have been triggered by Episode 38.
Flo's podcast has got off to a brilliant start in 2020, with thousands of downloads. I hope in 2021, it will become the go-to resource, with people not only subscribing to each week's episode, but also dipping into all the richness that has already been created around a very human approach to obstetrics and maternity experience.
I am privileged to be part of this vibrant community focusing on what matters to people … which is really all that matters. Join us!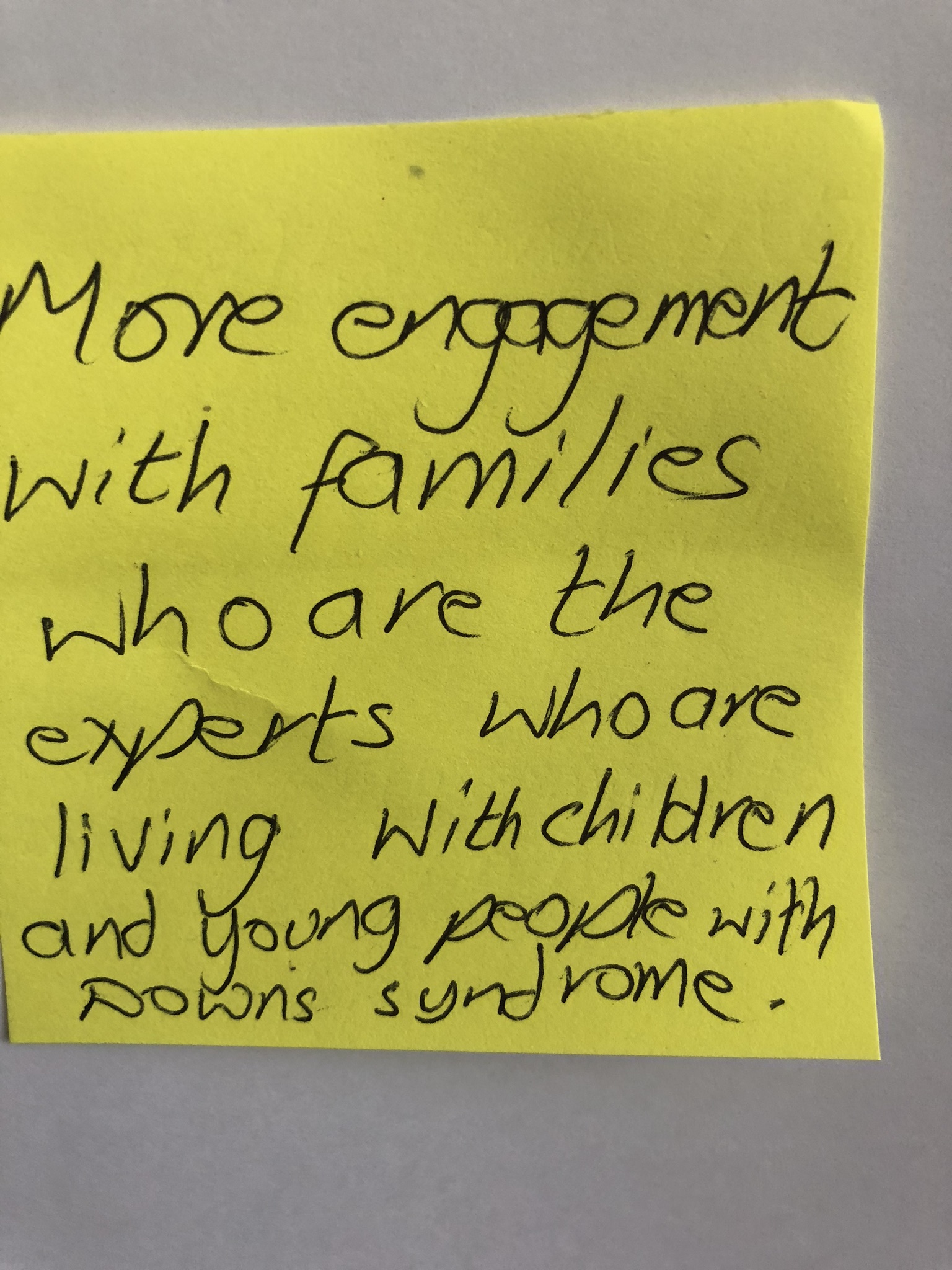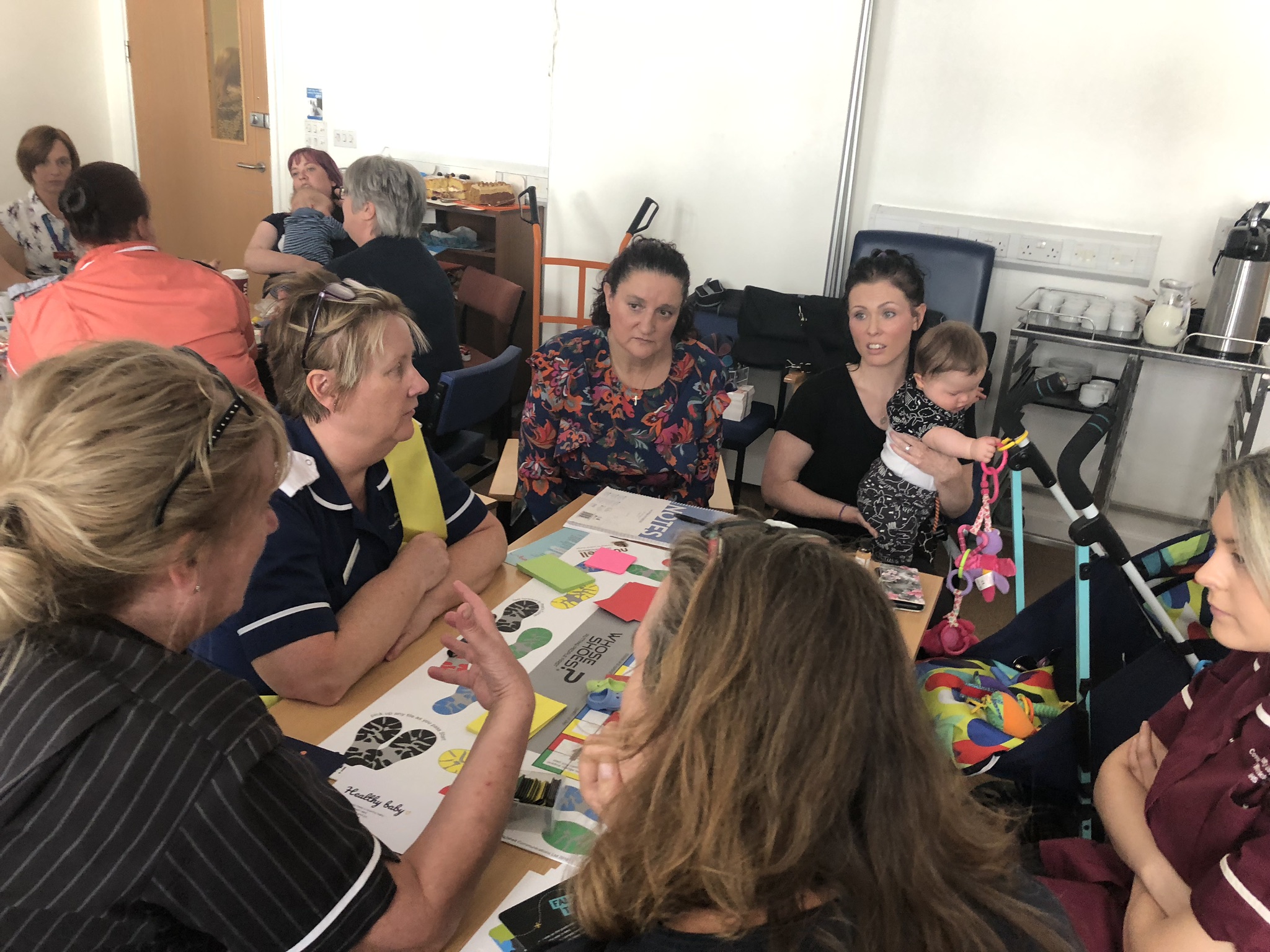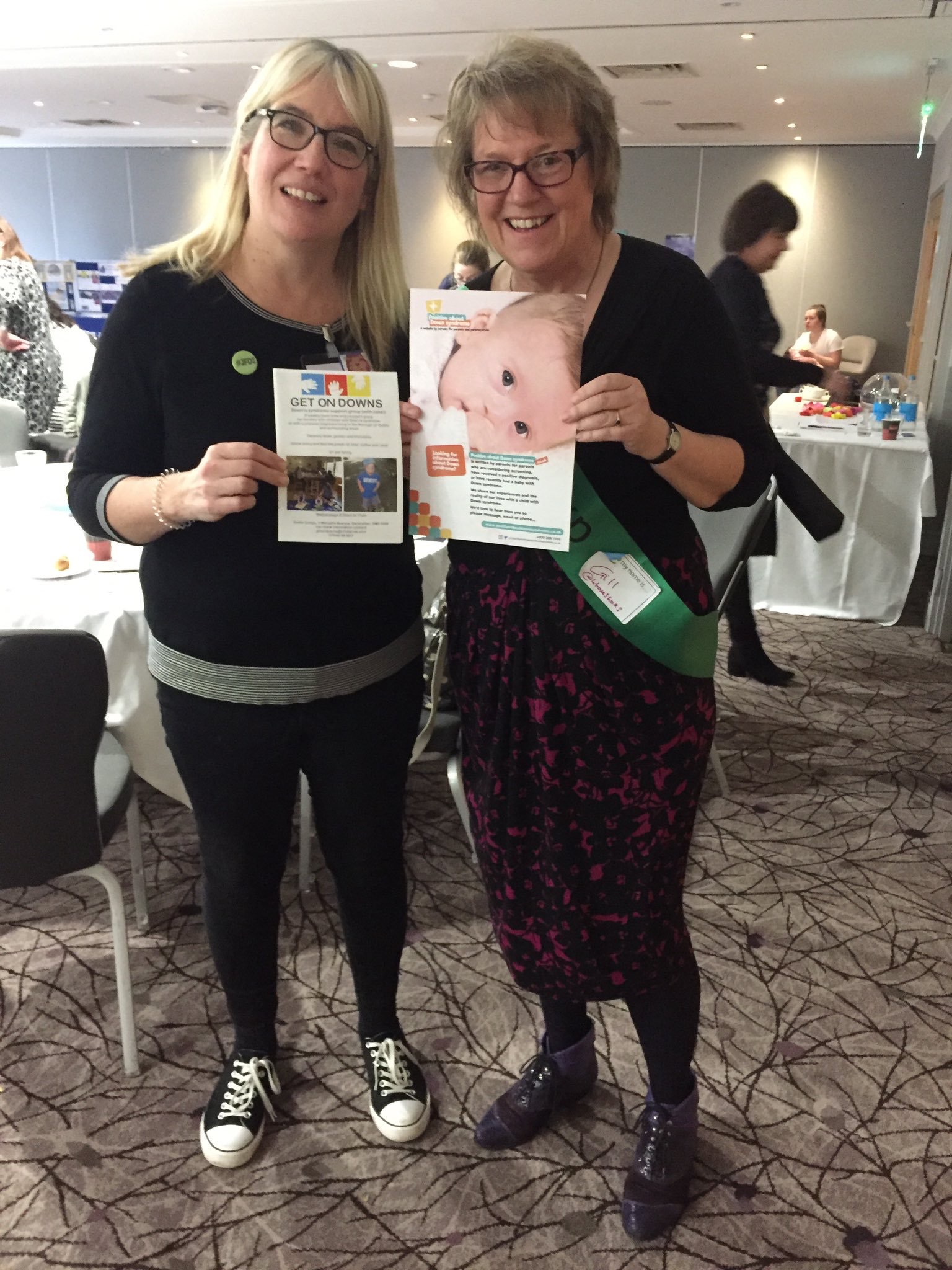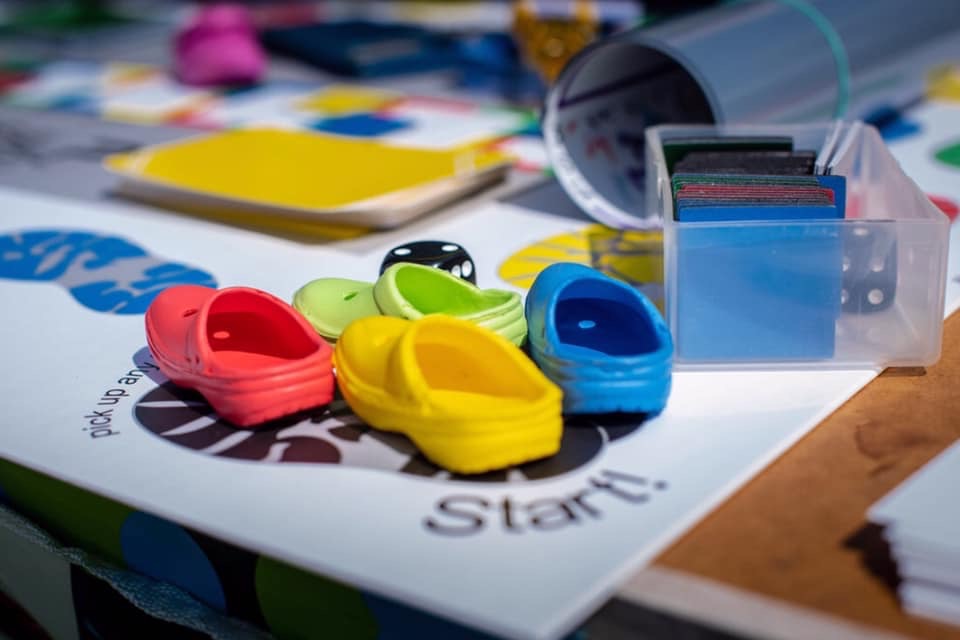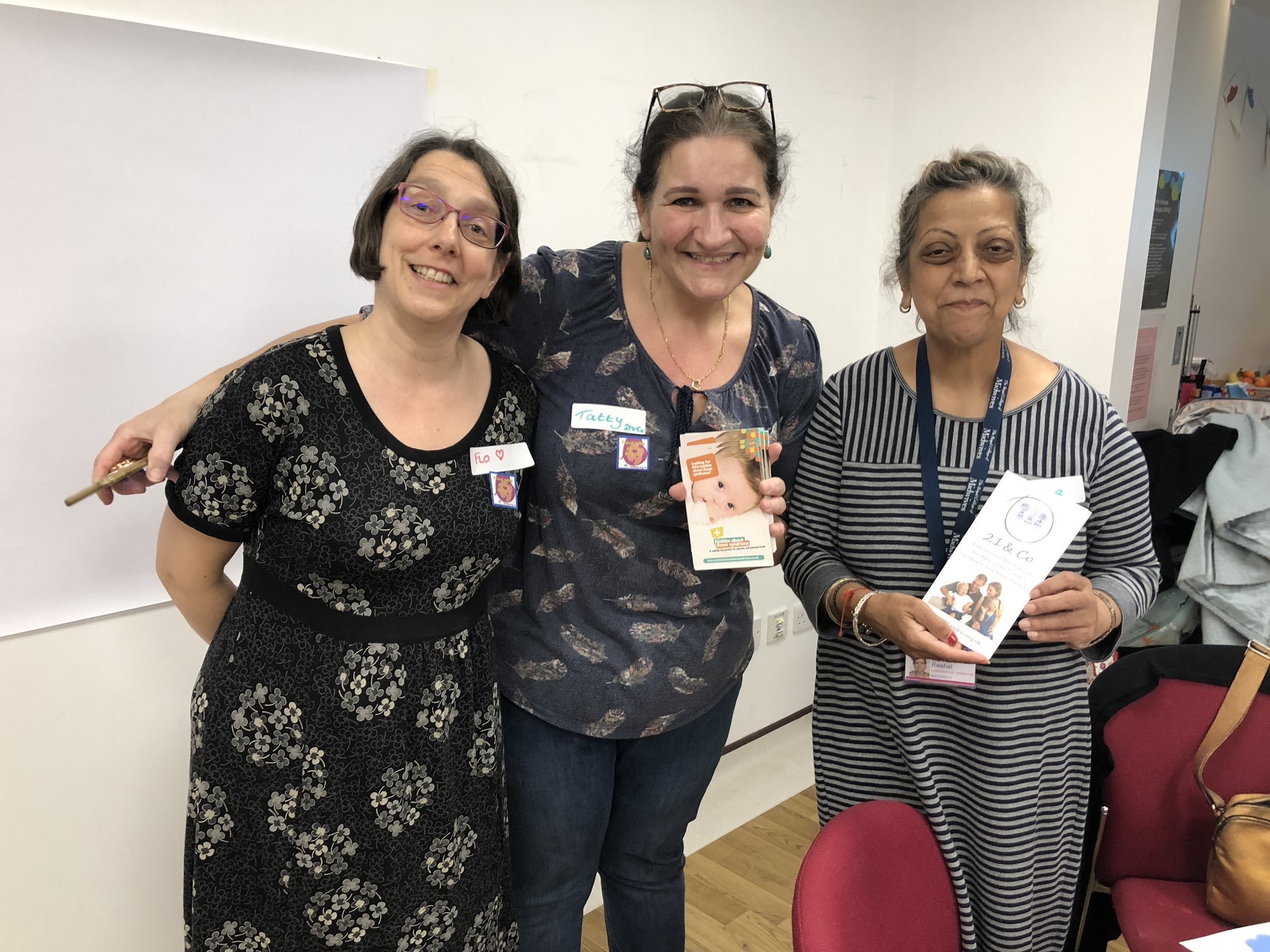 DS – Nicola at UHCW Coventry workshop IMG_2582
DS postit – lived experience families IMG_2611
DS Postit – more time for screeningIMG_2610
DS – Yes I want to continue Anna graphic IMG_6175
DS – Coventry workshop 2 IMG_2588
DS – Anna drawing IMG_5629
DS – board photographic IMG_1109
DS Nicola at WS table UHCW Coventry IMG_2619
DS Flo Tatty Bal Kingston IMG_0874
DS Coventry workshop IMG_2592
Don't forget the Dads – Copy
Compassion targets – Copy
Graphic – small things make a difference
Go-far-go-together-Anna-graphic