We recently ran a virtual Whose Shoes? event around baby loss, in conjunction with Gloucestershire maternity team and Sands bereavement charity. It was originally planned as the second of a 2-part event to use Whose Shoes to test out the 'National Bereavement Care Pathway' (NBCP) and identify any gaps.
'Event 1' went ahead on 6 March 2020, in Colchester …
The Colchester event was extremely powerful, with a lot of buzz in the room, hugs, good support and some powerful outcomes.
That sadly feels like a different world now, doesn't it?
Anna Geyer, Director of New Possibilities, made this film of the event:
'Event 2' in Gloucestershire was meant to follow a couple of weeks later, but we all know what happened in the meantime. Covid struck and it took us 10 months to work our way through how to run an event of this importance and this sensitivity online.
I will fast forward and bypass how we developed #VirtualWhoseShoes, and all the twists and turns along the way …
Suffice to say that it was thanks to the dedication and perseverance of everybody that we managed to make the event happen. Dawn Morrall, Assistant Director of Midwifery & Nursing and the Clinical Improvement Lead of the South West Clinical Network, checked out the emerging virtual experience, and insisted that it should remain as a Whose Shoes event.
Dawn is one of the people who really 'gets' Whose Shoes. Dawn also has a great track record of following up on the quality improvement actions in order to get the most from the events … so we love working with the team in Gloucestershire!
I am hoping Dawn will write a case study about the outcomes from our previous events – and from this one in due course!
Online sessions take a huge amount of preparation. We had a lot of supporters, both in the room and following us on Twitter. #FabObs Flo Wilcock, consultant obstetrician, and Marc Harder had been the people who originally initiated the events:
Despite detailed preparation over many months, we didn't really know how many people to expect, or the mix of people. Healthcare professionals are obviously so busy at the moment, with the pressures on the NHS due to COVID; people are feeling isolated during lockdown and missing the normal support available from family and friends. They are also 'Zoomed out', as the pandemic drags on.
It is hard for any new parents / parents-to-be at the moment, let alone people experiencing bereavement, so it was wonderful that Kerri and many others were keen to join. THANK YOU!
I was amazed. We had about 60 people on the call. It was wonderful and very moving to see so many bereaved parents joining us, alongside healthcare professionals, chaplains, people from SANDS, volunteers, medical photographers, a GP, a funeral director, and many more…
We started off with a gentle activity – colouring! It helps people learn Zoom skills that we then use later in the session to annotate certain screens.
But it also feels relaxed, encourages people to turn on their mics and speak, adds a bit of colour and creativity and helps set the right tone for the session.
Clare Worgan from Sands (stepping in for Marc Harder, who has championed this work – get well soon, Marc!) gave a wonderful introduction about the National Bereavement Care Pathway, sharing many links and resources, including NBCP e-learning modules. A bereaved mum herself, Clare is passionate about bereavement care. Her authenticity and keenness to help others shone through.
And then a very moving introduction from Deborah Lee, the Chief Executive. Again Deb spoke from the heart, welcoming everyone to the session but also embodying our #NoHierarchyJustPeople mantra by sharing her lived experience story of baby loss.
It was wonderful that she was able to prioritise sharing this vulnerability and helping others, alongside juggling vital meetings to run the hospital!
We all really appreciated it and it set the context for the event perfectly.
Deb has generously given us permission to share her talk, as appropriate, at any future sessions too.
It was very moving to hear Deb talk about her experience of losing two babies before she went on to have healthy children, now teenagers. All birth stories are important. Hearing Deb remembering so clearly the things that made her experience better or worse, just as vibrantly as a mum talking about a very recent birth experience, brings home just how important things such as language, compassion, 'personalise rather than medicalise', and the other key themes of our #MatExp work really are.
Whose Shoes is constantly evolving. It is all crowdsourced by real people and their experiences.
Would you want to hear a group of student medics standing at the end of your bed, referring to you as 'an interesting case', as you come to terms with the loss of your child?
Would you want to receive a stark letter telling you not to get pregnant again until you come into the hospital to discuss your case … especially if you are already pregnant?
It is fantastic that we have been able to suggest practical solutions, such as the example set by Leigh Kendall, working with Kingston Hospital and St George's, where sadly her baby son Hugo lived and died, to write more empathetic letters to bereaved parents. Please check out #HugosLegacy.
You can read the other 'Nobody's patient' case studies here: http://www.londonscn.nhs.uk/publication/maternity-co-designed-case-studies-nobodys-patient/
Leigh inspired the work we did around neonatal care, one of the three key themes of #NobodysPatient.
Here is Leigh's very moving blog, reflecting on our #NobodysPatient workshop at St George's hospital:
Catherine MacLennan, another bereaved mum, was similarly the catalyst for our innovative work around second trimester loss, which is sadly an area of care that is missed out from many 'pathways'.
I am always in awe of how many bereaved parents use their grief to create something so positive.
We had the privilege of welcoming about 15 passionate bereaved parents/ couples in Gloucestershire, reaching out to help others. Many of them spoke about special people who had helped them along the way – "life savers" is a word frequently used. It reminded me of Catherine's 'special people' poem.
Something that I found particularly moving in our Gloucestershire event, was a mother talking about how, when her baby was sadly stillborn, she had made small matching dolls, one to place inside the child's coffin and one to hang on the Christmas tree as a symbol of hope and for any subsequent children to enjoy and get to know and love their sibling.

We had some fantastic conversations around how best to help people remember their babies and how this might change according to the stage of pregnancy at which the loss occurred.
I have been able to follow this up, as part of my own personal pledge, by linking wonderful peer support people doing great work in this area.
Watch this space for further links between Lauraine Cheesman (Shine, Gloucs) and Leanne Howlett (By Your Side, Warwickshire)!
I really love making these links!
There were so many thought-provoking conversations, sparking the 'lemon lightbulbs' that stay with people and change practice.
Would you want the doctor's comment on your sicknote to simply say 'Depression' when you have just lost your child, without consulting you?
How would you feel having to handle this when you talk to your employer, sometimes without maternity leave if your pregnancy ends before 24 weeks?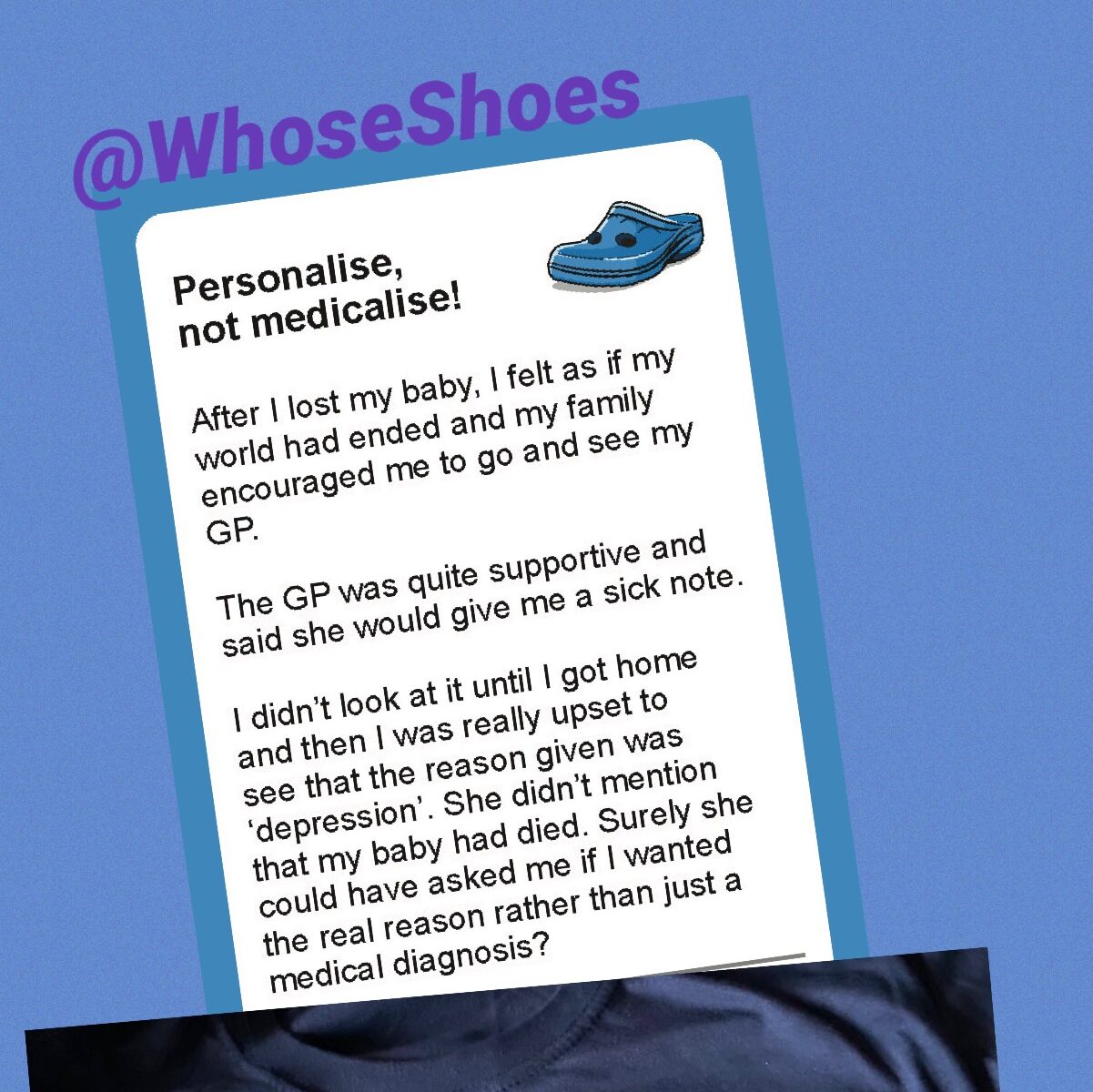 These are just a small sample of the situations people are regularly facing.
Conversely, we heard how staff are generally extremely compassionate, and what a difference this can make, including giving people the courage to get pregnant again and try for 'that happy ending'.
As always, we used a variety of scenarios and poems to generate the conversations to explore people's experiences and how services and support could be improved. Bereavement midwife, Nikki Dobson proved to be a superstar. She and her colleagues had put in so much time to do a gap analysis, identifying areas where feedback suggested improvements could be made.
We wanted to get the most out of the opportunity afforded by bringing all these wonderful people from different perspectives together. The team had identified key themes and we selected the most relevant Whose Shoes scenarios accordingly, including:
• Some areas in fetal loss / medicine identified as needing improvement
• Care after discharge
• Delivery suite gap analysis
• Antenatal screening – support for families in future pregnancies
• Ultrasound
• GPs
• Supporting dads and partners
Nikki writes wonderful poems and she generously read two of them live during our session. We have always used poems as a way of connecting with people differently in our WhoseShoes sessions.


As always, Anna's images were superb – and all the more so, being able to capture the conversations live during the session, just as we do 'in the room'. Sometimes we have the opportunity of a visual learning synthesis too, but each event is different.
You can read Anna's reflections here: https://www.linkedin.com/pulse/hearing-voices-bereaved-families-anna-geyer/
It is totally draining facilitating these online sessions but incredibly rewarding. The chat in the Zoom 'chat room' was phenomenal – full of wonderful insights, comments and useful links. The atmosphere was warm and supportive. We were able to 'save' the chat in all its richness, as another output from the session to feed into the continuing quality improvement journey.
The outcomes are extraordinary and just as powerful as any other events that we run.
And, of course, for all events the most important outcomes happen later – people following through and implementing their pledges, connecting, building the momentum for positive change.
I collated as many of the pledges and specific improvement ideas from the session as I could. SO many. This does not mean that the bereavement care in Gloucestershire is poor. On the contrary, it means they are open to genuine coproduction, listening and finding out how they can make their service even better.
The praise – and indeed love – for Nikki, Dawn, the medical photographers, fetal medicine staff and many others was incredibly strong . I was moved by everyone's determination to work together and support each other.
There seems to be a lot of interest in Whose Shoes around how we can better support parents and families suffering baby loss, building further on the various maternity projects we have done, which Colchester, Gloucestershire and about 70 other NHS trusts have used so powerfully in quality improvements.
Next stop, Lincolnshire? A few of their team joined the Gloucestershire session, which is always the best way to learn about
Whose Shoes and build the networks. We've done some great work with Lincs before!
The energy is growing …
Since the Gloucestershire event, I have had several extraordinary opportunities to join conversations, hear different perspectives and ensure that our Whose Shoes material remains topical, authentic and able to spark the understanding that is needed.
I was privileged to join a very powerful and informative Zoom session, led by paula abramson Alex Mancini-Smith and Nadia Leake .
Wonderful staff from the South-West neonatal teams came together to learn more about baby loss and its impact, and Nadia courageously shared her lived experience story, helping people understand the special grief and complexity of losing one or more babies in multiple pregnancy.
I recommend this training highly to all involved in perinatal care.
I also joined a webinar hosted by Kathy Fray in New Zealand, with guest speaker Joann O'Leary talking with huge insight about pregnancy after loss, another complex 'taboo' topic which is not discussed enough.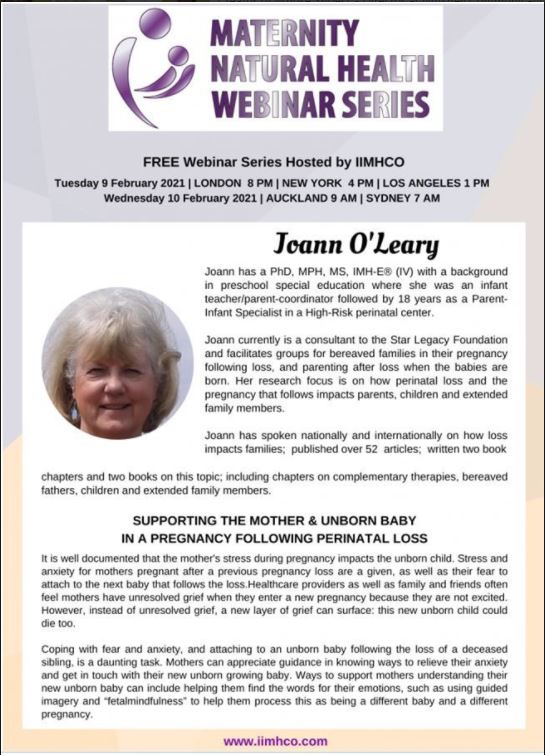 I am being asked about some of the 'end of life care' / palliative care work we have done in other areas – eg with London Ambulance Service. I am having some interesting conversations with People from NHS England / Improvement at the moment about how all of this work could be better supported.
I am currently supporting a wonderful doctor, Nikki Crowley, to implement Family Integrated Care in a London hospital; the #NobodysPatient resources will be central to our collaboration. Networking is proving super important here, as some wonderful people come together to help.
And … latest news … we are currently looking at innovative ways to help people follow up Whose Shoes pledges, if things get 'stuck' in any way, using #LiberatingStructures. With thanks to Lyse Edwards. Contact me @WhoseShoes if you want to know more.
So, lots happening. But it is only be happening because PEOPLE are stepping forward to make a difference, which is hugely rewatding.
I will leave you with a fantastic quote from Nadia Peake, the bereaved mum of twin baby Raif, who stole the show at the South West Neonatal event.
"The situation is bad.
The experience doesn't have to be"