Leigh Kendall opened this month for #MatExp with a call to action for Oxytocin October. The campaign is always action focused and we are keen to hear from anyone who is doing something to improve maternity experience in the UK, be it something big or something small. Yet we had already put together a number of blog posts with calls to action, back in #FlamingJune. So I decided that my action for this month would be to revisit those blog posts and find out what progress has been made.
The original blog posts were on these subjects (each subject links to the relevant post):
Having re-shared the posts on Facebook and Twitter I was delighted to see the responses coming in detailing what has changed, what has been started and what is continuing to be done. Take a look!
Perinatal Anxiety
Sarah McMullen of the NCT explained that she invited Emily Slater (MMHA Campaigns Manager) to speak and run a workshop at the NCT national conference – to raise awareness and inspire action. Sarah says that Emily's plenary talk to 600+ staff, practitioners & volunteers "was incredibly powerful, and we're meeting to discuss next steps for NCT". Sarah added "We've also submitted two funding applications relating to mental health awareness (thanks to Rosey Wren for support), and have match-funded a PhD studentship with the wonderful Susan Ayres on Birth Trauma, and are supporting another PhD research project on group identity and PTSD"
Midwives on Twitter commented:
To read Jeannine and John's blog post please click here.  "You matter. I care."
Emotional Wellbeing
#MatExp team member Emma Jane Sasaru has been incredibly active over the last few months.  She has launched Unfold Your Wings a place of information and support aiming to raise awareness of Perinatal PTSD, birth trauma, reduce stigma and give sufferers hope.  She has also launched a CoCreation Network community around perinatal mental health.  Emma has then collaborated with #MatExp team member Susanne Remic to bring about a weekly #BirthTraumaChat on Twitter run jointly from Unfold Your Wings and Maternity Matters.
Also launched this month by West London Mental Health NHS Trust was this fantastic short film about perinatal mental health: https://vimeo.com/143359951 This film has already sparked many useful conversations.
Continuity of Care
I was speaking to a commissioner from Cheshire this month about the decision to commission OnetoOne Midwives. The company has this month posted an overview of their caseloading model: http://www.onetoonemidwives.org/_news/caseloading-midwifery-an-ever-evolving-model-of-care
In her talk at a recent National Maternity Review event, Baroness Julie Cumberlege made it very clear that the call for continuity of care is being heard by the review team up and down the country. Neighbourhood Midwives led a discussion at the review's Birth Tank 2 event, and there were a couple of other discussions where options for continuity were also explored.
Support for Midwives
Poem from banksy midwife @JennytheM:
Midwife Deirdre Munro celebrated the launch of the new Global Village Midwives website this week. The movement is over a year old and Deirdre explains:
Infant Feeding
Lots of news about infant feeding from passionate individuals and voluntary organisations.  On our #MatExp Facebook group Zoe Woodman explained: "In May we got approval from NCT to run a branch funded feeding support group. Started in June with an NCT bfc attending who is also an IBCLC. We are on 3 boundaries in terms of commissioning services so no local peer to peer style support groups were running within 8miles. The only service is an HV clinic once a week and it's one on one so you have to wait outside the room to be seen. It's been on our branch aims at our AMM since I've been chair (4yrs!) so finally chuffed to see it in action and I will get to use it myself in January for no3! It's running twice a month currently but hope we can get funding in the future to run weekly. It's slowly building in terms of attendance. Feedback so far is great!"
Claire Czjakowska's Breastfeeding Advert is coming together and is looking very exciting – watch this space!  Breastfeeding in Trafford launched its Twitter account this month so please follow for local breastfeeding news.  BfN Portsmouth tweeted:
Midwifery students at the University of Worcester have launched a petition around the questionable practices of infant formula companies – follow the hashtag #WeakenTheFormula for more information.
As if this wasn't enough, this month has seen the launch of the World Breastfeeding Trend Initiative for the UK.  A committed group of individuals from the major breastfeeding voluntary organisations have come together to measure the country's performance against the WHO Global Strategy for Infant and Young Child Feeding.  Please visit the website for more information on how this project is structured and the indicators against which the UK will be measured.  The project needs lots of input from families and professionals so please follow @wbtiuk on Twitter and find out how you can help.
Tongue Tie
Doula Zoe Walsh updated us: "We held a North West tongue-tie workshop in Blackpool. It's now going on the MSLC agenda for Blackpool so that we can discuss local provision and see if it's meeting the needs of local families."  
Breastfeeding and Medications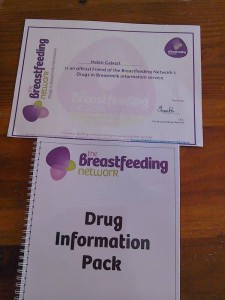 From a personal point of view, I finally got around to becoming a friend of the Drugs in Breastmilk Helpline this summer.  The helpline is absolutely vital for ensuring that women get the correct information about what medications they can use when breastfeeding.  The service is funded by the Breastfeeding Network and the charity once again asked supporters to do a #TeaBreakChallenge this month to help raise donations.
A wonderful #MatExp collaboration has sprung up this month between Angelique Fox, Sarah Baker and Wendy Jones.  These two #MatExp mums who have never met in person have both volunteered to help Wendy to collect data and raise awareness with regards to drugs in breastmilk, particularly where dentists and podiatrists are concerned.  It was discussed on the #MatExp Facebook group that these two healthcare professions are often cited as not having up to date information about breastfeeding and medications so this collaborative project is aiming to tackle that.
Luisa Lyons, the Infant Feeding Coordinator who wrote our original post on this subject, gave us this fantastic update: "Been a busy couple of months. Infant feeding e-learning training for doctors up and running at my unit and both paeds and obstetricians encouraged to complete it. Great support from our obstetric consultant clinics director too. General paed nurses now doing mandatory infant feeding training every year. Been invited to teach general paed doctors face to face. Three GP's have done the UNICEF 2 days bf management course with us and now writing bf training for GPs in Norfolk. Included info on bf and medications with scenarios to both student nurses and our midwives at keyworker training now, and incorporating into Mt for all maternity staff. Also off topic slightly am putting in a WHO code game to all the above which has generated lots of awareness with student midwives and maternity staff. Need to join DIBM as a friend which I had forgotten to do, so thanks for the heads up."
Dads & Partners
Mark Williams, co-founder of Dads Matter UK, wrote this blog post for us for #OxyOct, detailing his work and campaigning: https://matexp.org.uk/matexp-and-me/dads-matter/
Midwife Mark Harris launched his book this month, Men, Love and Birth, "the book about being present at birth that your lover wants you to read".
A Manchester midwife reported positive outcomes around new rules enabling dads & partners to stay over on her unit:
When asked how we can best support Dads & Partners, newly elected NCT president Seana Talbot tweeted:
Community Outreach Midwife Wendy Warrington tweeted:
I asked Wendy about the work she does with regards to Dads & Partners and she explained "I talk about attachment and being with their baby, skin-to-skin touch. Antenatal and postnatal depression, and fathers' role in supporting their partner in pregnancy, birth and beyond and how they can do this. I talk about baby cues and the impact of father's involvement on child's future emotional and cognitive development.  I have had excellent feedback from parents and when I see them after the birth they say they felt well prepared for feeling and emotions experienced post birth. They love the fact that I talked about it"
Collaboration between Midwives and Health Visitors
Health visitors on the #MatExp Facebook group told us:
"My CPT & I have established 6 weekly meetings with the community midwife and the GP (whose special interest is pregnancy/neonates) to discuss cases"
"We already have that in my team we meet at least once a month with the midwife – it was weekly but we are very busy at the moment (both us and the midwife). She will just knock on our door though and share things – she really came on board with antenatal contacts telling parents to be and signposting those with small children with any worries to us."
With excellent timing Sharon White, OBE, Professional Officer of the School & Public Health Nurses Association, then tweeted the updated pathway for health visiting and midwifery partnership.
And as a result of discussing all of this on Twitter, Sheena Byrom has invited me to lead a tweet chat with @WeMidwives and @WeHealthVisitor in November on the subject of midwife and health visitor collaboration.  Watch this space!
And so much more has been happening in #OxyOct as well! #MatExp was well represented at the NHS Maternity Review's Birth Tank 2 event in Birmingham – click here for Emma's round up. I spoke at the launch of the Improving ME maternity review for Wirral, Merseyside, Warrington and West Lancashire – click here for my round up of the morning. Leigh Kendall and Florence Wilcock spread the word at the RCOG Conference on October 16th, and Leigh spoke at the Royal Society of Medicine event on October 20th.
Baby Loss Awareness Week took place this month and many important discussions were had around the subject of grief and loss, something which affects a number of #MatExp campaign members.  Leigh wrote movingly about Standing on the Periphery for #HugosLegacy.
The RCM has this month launched its State of Maternity Services Report. Emma Jane Sasaru has written a series of three blogs about What Matters in Birth.  Susanne Remic has been raising awareness of IUGR. Michelle Quashie created fantastic word clouds for display in her local maternity unit.  We now have #MatExpHour every Friday created and launched by Louise Parry – click here for her round up of Week 2.  So much going on!
I have no doubt there is much much more that I have missed from this round up. There is so much energy and passion in maternity services, and so much desire for change. Whatever it is you are trying to achieve, please join up with #MatExp via Twitter, Facebook or the website and get encouragement and input from like-minded people. Together we are stronger! Feel the Oxytocin flow!
Helen Calvert, 2015